Off white velvet Camélia dress with champagne silk Peter Pan collar
Off white velvet Camélia dress with champagne silk Peter Pan collar
Off white velvet Camélia dress with champagne silk Peter Pan collar, cap sleeves, fastened at the front with 2 covered buttons and snap fasteners on the front of the skirt. There are 6 pleats at the front and 6 pleats at the back.
Size: 3, 6, 12, 18 months old.
100% cotton, collar and covered buttons 100% silk.
Handmade in France.
Ref: DOA 293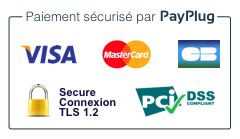 Payment by PayPlug
Payment via PayPal / credit cards